I've always wanted to start smoking, but I keep putting it off. Honestly, I just fold under any sort of guilt and the known effects of secondhand smoke deter me from lighting up…for now. I figure when I'm really good and old, you'll find me on my porch glider. I'll be chain smoking and sipping coffee, most likely talking to my poodle about what's wrong with the world and how it all went really down hill with the presidential election of 2016.
It's an exaggerated, joking example, but I've truly been in a pattern of waiting for as long as I can remember. Once "X" happens, I will do "Y."…. I'll workout starting on Monday or after the holidays…. I'll join the ladies group when I have more time…. I'll tithe when I have an abundance of money…. I'll follow Jesus when I have my life together.
I'm anything but a procrastinator when it comes to the ordinary tasks of daily life: dishes are washed sometimes before dessert has been served and my Christmas shopping was done at the end of July. However, I'm the first to postpone the "extra"—those things in life that some deem extraordinary, unusual, or even unnecessary—because real-life is happening.
I blame it on being a child of Appalachia. "The Life on Hold Phenomenon" is common to us hillbillies. Perhaps we feel as though anything extra is too much–we barely squeak by each day the way that it is. Either way, extra in Appalachia is often deferred: extra is far too often doped-up, dead, or dozed like the mountaintops.
Satan's plan is to keep us dwelling on our past or daydreaming about the future, but never in actual action. As children of Christ, we are "living water." I grew up a flat rock's toss from the Ohio River, and we had to cross it for nearly everything from pizza to tennis lessons. The river, muddy and murky as it was, never stopped flowing as we drove over. It was always in forward motion, and always affecting the barges, dams, and few boats. Much the same, we are called to go the extra mile now: to live active lives and to affect the world around us. Stop putting off today what we say we'll do in the future (Luke 9:60). We can't serve God in the past, and there is no promise that we can serve The Kingdom tomorrow. God desires our worship and obedience now (Ephesians 5:15-16).
Breaking habits are hard. That's reason enough for me to never pick up a pack of Lucky's (Dadu's brand of choice). It's also why I'm going to need to be intentional about putting an end to my pattern of waiting and live purposefully today. "Forget the former things; do not dwell on the past. See, I am doing a new thing! Now it springs up; do you not perceive it? I am making a way in the desert and streams in the wasteland," (Isaiah 43:18-19 NIV).
Referenced Verses:
Jesus said to him, "Let the dead bury their own dead, but you go and proclaim the kingdom of God." Luke 9:60 NIV
Be very careful, then, how you live – not as unwise but as wise, making the most of every opportunity… Ephesians 5:15-16 NIV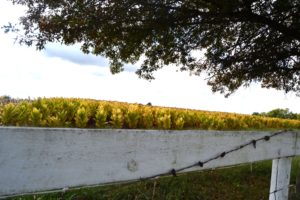 Aren't tobacco fields grand? –This picture is of a beautiful farm in Lancaster, KY.