My grandfather's name was Luther E. Craig. Those that knew him best (if anyone really did) lovingly called him "Dadu"—it was a cutesy grandfather name that my brother dubbed before everyone up and abandoned "Mamaw" and "Papaw" for more glamorous options. I can't retell verbatim a lot of what Dadu passed onto me and this remain a wholesome blog…but here are some bits of the steel welder's wisdom that have served me well: (1) houses with multiple pitches in their roof have multiple opportunities for leaks, (2) the best amateur pyro-technician techniques include a lot of gasoline, and (3) if you're going to have a long day, nothing sticks with you like a breakfast of biscuits and gravy.
(Pictured: Dadu, August 1979)
Recently, Wade and I were gearing up for our 29th official move as a married couple. Yes, for almost 6 years and we've legitimately set up and/or cancelled utility bills and changed our address an average of 5 times a year. I knew we had a lot of boxes and major first world problems that needed a hearty breakfast before we could tackle the long day. Solution?…. Dadu's Hardworkin' Biscuits and Gravy.
And it worked!!: we are moved into our new home, and now I'm just hoping we stick around long enough for the boys to grow and learn some tried and true bonfire tips.
Know you are going to have a long day ahead?  Start it with this Country/Appalachian/Southern/Hillbilly classic…. Biscuits and gravy.
---
A good name is more desirable than great riches….
Proverbs 22:1
---
BISCUITS and GRAVY
Start by browning sausage in a skillet.  I typically use a spicier breakfast sausage (we like the kick start in the morning!) and slice it a little bit thinner than the markings on the package.
While sausage is cooking, put 1 Tbs of butter in a cast iron skillet and place in oven to melt on 450 degrees Fahrenheit (read here about designating a skillet for cooking just biscuits or cornbread).  Then combine your dry biscuit ingredients and the rest of the butter in your mixer and beat with wire attachment.  This helps distribute the butter move evenly.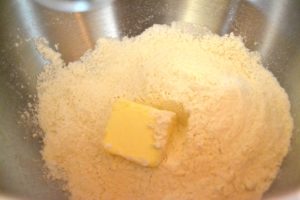 Use a spoon or change mixer attachments before adding the milk–I changed to the flex-edge beater because it was early and I hadn't had nearly enough coffee.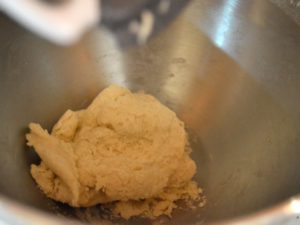 Now the butter should be about melted and the sausage should be about cooked.  Roll dough into 2″ balls and place into hot butter.  Leave space in between the biscuits and then place into the hot oven.
Remove sausage from skillet and let it set on a dry paper towel to collect any extra grease.  Retain most of the grease in the skillet.  It's time to fix the gravy!
On medium-low heat, add flour and stir.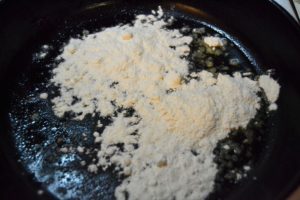 Gradually add in the milk and S&P to taste and stir continuously until mixture thickens.
And just like that…. beautiful gravy!
And delicious HOMEMADE biscuits!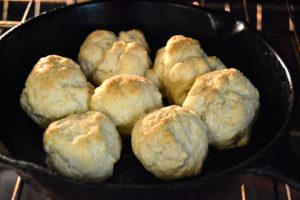 Marry them together for a match made in Hot Greasy Skillet Heaven….
---
Biscuits
Ingredients:
1 cup all-purpose flour
1 ½ teaspoons baking powder
¼ teaspoon salt
2 tablespoons butter (divided)
1/3 cup whole milk
Instructions: Preheat oven to 450 degrees. Melt 1 tablespoon butter in cast iron skillet in oven. Sift flour into bowl; add baking powder, salt, and cold butter.   Mix with wire whip attachment until evenly combined. Stir in milk with spoon. Roll into 2" balls and place in skillet, away from the edges and with space between them. Bake 9 minutes or until golden brown.
Gravy
Ingredients:
Sausage of choice
¼ cup all-purpose
1 cup whole milk
Salt and ground pepper to taste
Instructions: Cook sausage in large cast iron skillet over medium heat until cooked thoroughly, flipping half-way through. Remove sausage from skillet and set aside on a paper towel/plate to drain. Leave remaining grease in skillet. Stir in flour. Gradually add milk, salt & pepper, stirring constantly over medium-low heat until mixture thickens. Pour mixture over freshly baked biscuits.