Beans and cornbread are the ultimate hillbilly meal. Every mean tot of the mountains knows the rhyme:
"Beans beans, they're good for your heart.
The more you eat, the more you … "
[Finish the rhyme yourself…]
[[If you can't figure it out, you ain't ornery enuf….]]
Beans are "good for your heart." It's as true a statement as the second line in the ditty. Legumes are low fat, low cholesterol, high protein little gas-producers. And it makes me wonder what constitutes true "heart health."
My granny passed away April 15, 2010 with Congestive Heart Failure along with several other cardiac ailments and Alzheimer's, but Popaw, soon age 94, (Remember Carl None Hamilton?) is fit as a fiddle, except for a widower's broken heart.
Despite our frequent bean consumption, Appalachia has never been known as a health-conscious region. We're infamously self-destructing via drug and donut addictions. Even with dangerously elevated cholesterol levels, abnormal ECGs, and overall pitiful cardiac checkups, this nurse is still more concerned about the mountain folks' proverbial hearts. Kentucky, West Virginia (my birthplace), and Tennessee—all states I'm so very fond of—are always high-ranking in divorce rates. If only heart health was as simple as Meatless Mondays and religious gym attendance!
Granny and Popaw were married on April 13, 1946… a total of 64 years almost exactly to the day. From my own blessed marriage and a multitude of thriving examples dear to me, I am certain that a happy, healthy marriage stems from two "heart-healthy" individuals. What we harbor in our hearts… be it kindness, devotion, and sacrifice or impatience, pride, and contempt… will undoubtedly be evident in our relationships.
Jesus said: "A good man brings good things out of the good stored up in his heart, and an evil man brings evil things out of the evil stored up in his heart. For the mouth speaks what the heart is full of." Luke 6:45 NIV
May The Great Physician heal our whole heart. May our relationships be blessed by the knowledge that we can all be together forever in Glory thanks to Jesus. And for the love of beans, my favorite Navy veteran, and his beautiful bride, may I present:
Navy Beans (and of course, cornbread).
---
Step-by-Step: Navy Beans
We hosted a gender-reveal party for some family this past weekend, and I was way too excited for ham scraps. I started planning the subsequent leftover supper of navy beans and cornbread when I first picked up a ham at the grocery. Good scraps=good flavor. Plus, my husband is not naturally benevolent to a dinner of just beans, so the ham makes us both happy.
Preparation begins the night before with a bean rinse and soak per the package instructions. I removed the overly brown beans and the floaters.
When it was time to prepare the beans, I drained them and rinsed them again. I added our diced ham (about 1.5 cups) to the beans, along with a clove of minced garlic, and ground pepper to taste (which is a lot for us). No salt or fat is needed—the ham takes care of that.  [Perhaps this is where I should note that the beans alone are what is cardiac-diet friendly.  In cooking, some people typically add in what isn't healthy for the sake of flavor. ……Guilty party here.]
Add about 7 cups of hot water and bring to a simmer.
Cover the pot with the lid tilted and cook until the beans reach desired tenderness (approximately 1.5 hours). Stirring occasionally.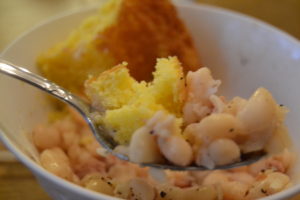 Serve with cornbread and savor on cool October evenings.  God bless!
---
Navy Beans
Ingredients:
1 package (1 lb) Navy/Great Northern beans
1.5 cups diced ham
1 clove minced garlic
Pepper to taste
7 cups hot water
Instructions:
Prepare beans according to package instructions.  Add beans and all other ingredients to stock pot.  Simmer and cover with lid tilted until beans reach desired tenderness (approximately 1.5 hours).