Nan and I used to go to a little pizza place in the small town of Ceredo, West Virginia on our way home from school.  They had an assortment of Italian dishes, but their pizza is what put them on the map… that and the fact that there aren't too many other restaurants with which they must compete.  I've been away from Ceredo for quite some time–living in much larger cities and visiting even bigger–and I'm often left craving and comparing other pizzas to this one.  Is it the "taste of home" or are they just that much better?  It's a toss–but I am certain the secret to their success may be in the well-known secret of their addictive sauce: grape jelly.  That's the trouble, or in this case, the luck of small towns–it's sure hard to keep a good secret.
Nan always said you need to switch it up after a big holiday like Thanksgiving and eat Italian–reason unknown, but I continue to respectfully and eagerly follow the order.  Since I'm still in the holiday spirit, however, I decided to do a twist on my traditional spaghetti with this Spaghetti Pie.  Buon appetito!
---
For nothing is hidden that will not become evident,
nor anything secret that will not be known and come to light.
 Luke 8:17
---
Spaghetti Pie
Adapted from the Junior League of Owensboro, Inc's "To Market, To Market," (1984).
Disclaimer: This dish requires dirtying more dishes than I typically like to do, but it's so worth it!
Boil spaghetti according to package instructions, rinse, and drain.
To the noodles: add butter, Parmesan cheese, s&p, and eggs and mix together. Set aside.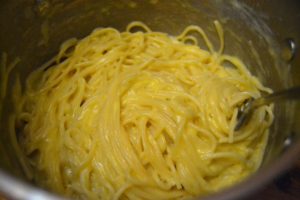 Brown ground beef, onion, and garlic salt. Drain fat.
To ground beef, add: tomatoes, tomato paste, grape jelly, oregano, and basil.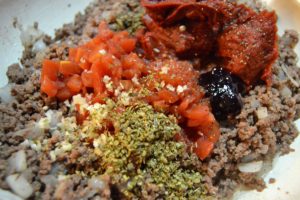 Mix well and heat thoroughly.
Now is a good time to pull out your deep cast iron skillet.  Mine is a 10″ skillet, about 2 inches deep.  I poured EVOO to lightly coat the bottom and placed it into the oven to preheat at 350 degrees. In a separate bowl, combine ricotta cheese and mozzarella cheese.
And mix!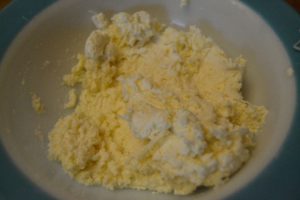 Pull out your warm skillet from the oven.  Pour noodles into the skillet (no picture, but I trust you've got this one!).  Then spread cheese mixture over the noodles.
Top with sauce mixture and place in oven for about 20 minutes.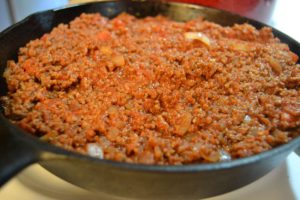 Sprinkle with mozzarella cheese and bake until cheese melts.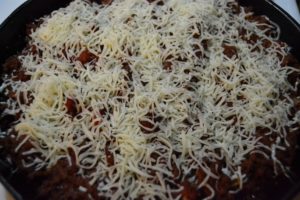 Serve like lasagna!
---
Spaghetti Pie
Ingredients:
6 ounces spaghetti noodles
2 tablespoons salted butter
1/3 cup shredded Parmesan cheese
2 eggs-beaten
1/2 teaspoon salt
1/2 teaspoon pepper
1 pound ground beef
1 medium onion-chopped
1 can (8 oz) tomatoes-chopped
1/2 teaspoon garlic salt
1 teaspoon grape jelly
1 teaspoon oregano
1 teaspoon basil
1 cup ricotta cheese
1 1/2 cup shredded mozzarella cheese (1/2 cup separated)
Instructions:
Cook spaghetti according to package instructions, rinse, & drain. Stir in melted butter, add Parmesan cheese, salt/pepper, and eggs. Set aside. Brown meat, onion, and garlic salt in a skillet.  Drain fat.  Stir in undrained tomatoes, tomato paste, grape jelly, oregano, & basil. Mix and heat thoroughly. Preheat oven to 350 degrees. During preheat, put a large/deep cast iron skillet coated with olive oil into oven (Note: if you don't have a cast iron skillet, use a deep pie dish or a smaller casserole dish.  Do not put those into the oven during the preheat, but still coat lightly with EVOO).  In a separate bowl, mix ricotta cheese and 1 cup of the shredded mozzarella–retain 1/2 cup for later).  Pull skillet from oven, pour noodles into skillet.  Spread cheese mixture evenly over the noodles.  Pour sauce/beef mixture over cheese.  Bake for approximately 20 minutes uncovered.  Top with 1/2 cup mozzarella cheese and place back into the oven until melted (approximately 3-5 minutes).  Slice and serve like lasagna.