I made the bold proclamation last year that I would make homemade cinnamon rolls every Christmas morning as a family tradition.  Doesn't sound that bold?  Well, please consider that I had never made them before last year…. and that I had to google two of the recipe terms. Life on the edge, right?
Don't worry– I can break it all down for you here.  They turned out great Year 1, and Year 2 we are still on a hot streak!  I make and freeze them ahead of time for a relaxed Christmas morning.  I can stay out of the kitchen, enjoy Santa-excitement, and the home still smells delicious and inviting.  Of course, we had to bake some to sample.  Now the Christmas anticipation is all the stronger….as is my coffee.  Happy baking!
---
But the angel said to them, "Do not be afraid; for behold, I bring you good news of great joy which will be for all the people; for today in the city of David there has been born for you a Savior, who is Christ the Lord. Luke 2:10-11 (NASB)

---
CHRISTMAS CINNAMON ROLLS
Start by combining warm water, yeast, and a bit of sugar in a bowl.  Set aside to rise.
Melt butter in sauce pan and add milk.  Scald milk.  This is what I had never heard of doing. After doing a bit of research, I learned we don't have to be that scientific about it.  Scalding milk was something people did prior to pasteurization where the milk had to reach a certain temperature for safety purposes.  For this recipe, it's sufficient to bring the milk just to a boil and then remove from heat source. No thermometer needed.  Add in the remaining sugar and salt and stir. Allow to cool to lukewarm.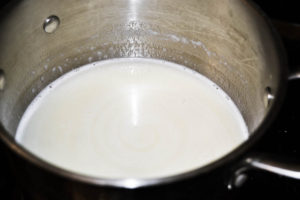 Add milk mixture and 2 cups of flour to mixer. Blend.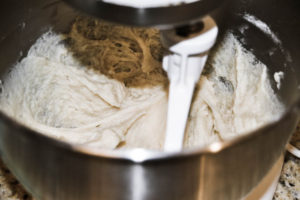 Add risen yeast to mixer.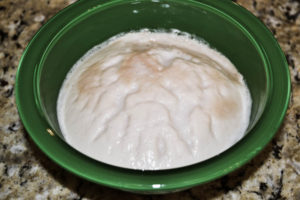 Also add in the eggs and blend.
Add anywhere from 3-5 additional cups of flour until the dough is "hard."  Mine was perfect when I had a total of 6 cups of flour.
Separate dough into 2 greased bowls. Cover and allow to rise in a warm place.
It'll rise in about 2 hours.
Do your best Rocky impersonation and "punch" the dough.  Flour a clean, flat surface and roll out into an oblong shape.
Spread about melted butter over dough, leaving a 1″ border. Sprinkle with a cinnamon/brown sugar mix.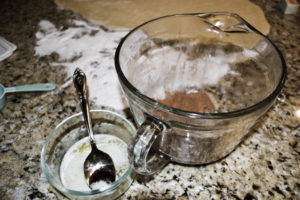 Roll up jelly roll fashion.
Slice about 1″ thick and place in greased baking pan.  I filled 2 13×9 trays.
Cover, and let rise for 1 hour if you plan on baking now.  If you plan on freezing and preparing later, cover tightly now and allow them to thaw and rise (approximately 3 hours in a warm area) prior to baking.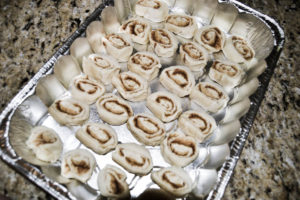 Bake for 20-22 minutes at 350 or until golden brown.  Cover with icing of choice.  I did a standard cream cheese icing that is a combo of cream cheese/vanilla/powdered sugar.  Hey, don't judge–It's Christmas! I've got a week before I even consider a diet.  And I just considered it…. I'm not interested…. unless celebratory cinnamon rolls are permitted.
Merry Christmas!!
---
CINNAMON ROLLS
Ingredients:
2 packages of dry yeast
1 cup warm water
1 Tbs sugar and 1/2 cup sugar separate
1 stick butter and 4 Tbs butter separate
1 cup milk
2 tsp salt
3 eggs
5-7 cups bread flour
1/2 cup brown sugar
1 Tbsp cinnamon
1 cup chopped pecans (optional)
Cream cheese icing
Instructions:
Combine warm water, 2 yeast packets, and 1 Tbsp of sugar in a bowl.  Set aside to allow yeast to rise.  Melt 1 stick of butter in a sauce pan.  Add milk, bring to a boil and remove from heat.  Stir in remaining sugar and salt. Allow to cool to lukewarm. Pour into mixing bowl.  Add 2 cups of bread flour to mixing bowl and blend.  Add in yeast mixture and blend.  Add in remaining flour, approximately 3 to 5 more cups of flour until dough is hard.  Divide dough in half.  Place into greased bowl and cover to rise until double in size (usually about 2 hours).  Combine cinnamon and brown sugar in a bowl.  Punch dough and roll out into 2 oblong shapes onto a clean, floured surface.  Melt 4 Tbsp of butter.  Spread evenly onto dough, leaving a 1″ border.  Sprinkle with cinnamon sugar mixture.  Roll jelly-roll style.  Slice into 1″ thick rolls.  Place into 2 greased 13×9 baking tins.  If planning to bake now: let rise for 1 hour, or until about double in size.  If planning to freeze: cover tightly and freeze until ready to bake.  Allow at least 2 hours for thawing and rising, (but I would allow for 3, just in case).  Or, let thaw in refrigerator overnight until ready to let rise for an hour in the AM. <<See, I've got you covered!!…  Bake risen rolls 20-22 minutes or until golden brown at 350 degrees.  Happy baking and merriest of Christmases to you and yours!