From a child's perspective, Punch Bowl Cake signified very special occasions in our home.  I remember thinking how grand it appeared on our dining room table when my mother would host ladies for this or that.  Then for whatever reason, we quit making PBC for awhile.  Years later, when we dusted off the crystal and the punch bowl came back into rotation, I was shocked that it wasn't as large as I had remembered.  The impression it made on me as a child has become a sort of family idiom.  We say something is "like the punch bowl cake" when we've remembered a moment or object as being more monumental than it actually was.  I think that's one of those beautiful (and frightening) parts of childhood, and a testament to how we adults can manipulate the seemingly ordinary into the magnificent.  My mother is the queen of this…. Hence, even hillbilly children can have an exceedingly charmed childhood.  Here's to 2017 being even more magical than it really is…
---
"Therefore, if anyone is in Christ, the new creation has come: The old has gone, the new is here!" 2 Corinthians 5:17 (NIV)
---
PUNCH BOWL CAKE
It travels great, you make it the day before, it's ridiculously easy, and presentation is equally as impressive as the taste.  What's not to love?  Um… nothing…. You'll love it all.
Start by baking 1 butter (or yellow) cake from box mix.
Then prepare instant vanilla pudding from large box.
Slice 3 kiwis.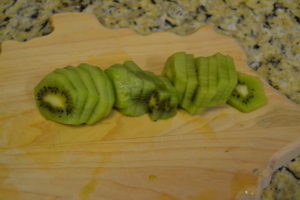 In a clean, dry punch bowl, place the first layer…cover bottom with cake.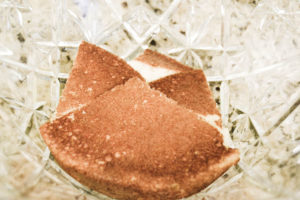 Layer 2: 1/4 of the pudding.
Layer 3: 1/4 crushed (and drained) pineapple.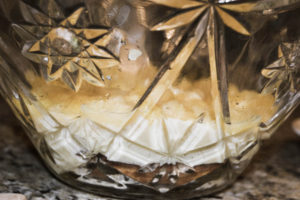 Layer 4: 1/4 strawberry filling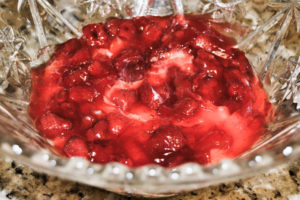 Layer 5: Cool whip and kiwis laying on the bowl.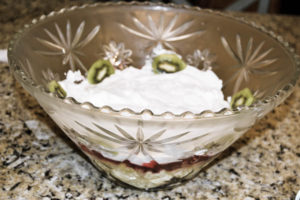 Layer 6: Cake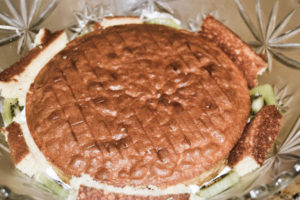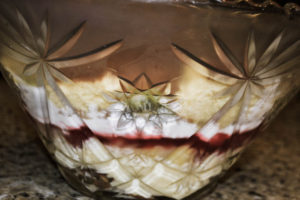 Layer 7: The remaining crushed and drained pineapple.
Layer 8: The remaining pudding.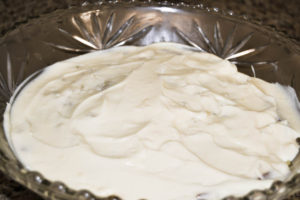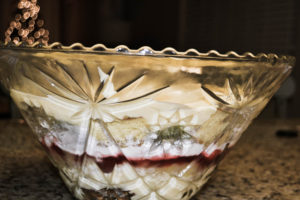 Layer 9: The remaining strawberry filling.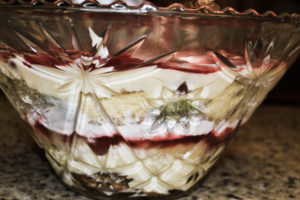 Layer 10: The remaining Cool Whip and kiwis. Be sure to use a clean spoon to spread so as to not "stain" the Cool Whip pink from the strawberries.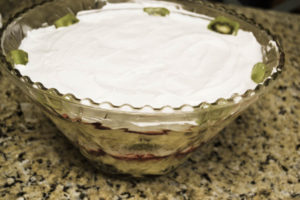 Refrigerate until near time to serve.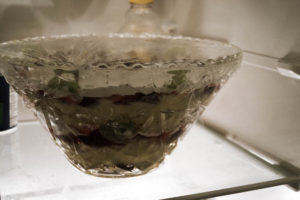 Prior to serving, decorate with chopped nuts, kiwis, strawberries, and/or cherries.
Cover with saran wrap for easy transport, or make this the party's centerpiece.  Happy New Year!!
---
 PUNCH BOWL CAKE
Ingredients:
1 Butter (or yellow) cake mix (prepared)
Vanilla instant pudding mix (1 large box prepared)
2 cans strawberry or cherry pie filling
1 large can crushed pineapple (drained)
16 oz. Cool Whip
3 kiwis (sliced)
Chopped pecans, cherries, or fresh strawberries for decoration
Instructions:
Bake cake from mix.  Prepare pudding from mix.
In a clean, dry punch bowl, layer from bottom to top as follows (make sure to drag everything to the edge of the bowl so as the layers can be easily seen from side):
cake
1/4 pudding
1/4 pineapple
1/2 strawberry or cherry pie filling
1/4 Cool Whip
cake
remaining pineapple
remaining pudding
remaining strawberry or cherry pie filling
remaining Cool Whip
Decorate with strawberries/cherries/kiwis/nuts.
Cover and refrigerate until time to serve.  May be made a day in advance. Enjoy!