We've been veggie-heavy lately (check out the recent recipe posts here), but sometimes you just have to give the people what they want.  My people, in the words of 3-year-old JW, "just want sammiches."  Perhaps his sammich…er… sandwich love was inherited from his father.
One day, I asked Wade if I could make his favorite meal.  I anticipated delicacies, seafood, or steak from a fancy restaurant or at least something labor-intensive, but he quickly said it was his mom's ham sandwiches.  To him, these sandwiches taste like home and Sundays after church.
Home and Sundays.
Between a hoagie bun.
Sounds pretty great, huh?
---
"In My Father's house are many dwelling places; if it were not so, I would have told you; for I go to prepare a place for you."
 John 14:2 NASB

---
SUNDAY SAMMICHES

Start by combining cheese, softened butter, egg, garlic and onion powder.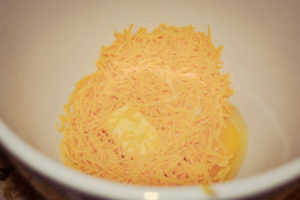 Mix until spreadable.
Depending on how much your group likes cheese, spread cheese mixture on 4-5 hoagie buns.  We went with extra cheesy on 4 buns. Then add the shaved ham.  Wade's mom always uses KY Legend ham for her sandwiches, so of course, I just had to!
Generously (like genuine Southern-Sundays-kind-of-generous) spread softened butter on top of the hoagie buns, and give them a good coating of garlic salt.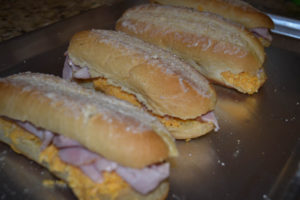 Place in a hot oven for approximately 10-12 minutes, or until cheese is melted and gooey and buns are toasted.
Special note: this is man-food.  Therefore, it's best served with a side of big-screen play-off football.  Go ahead… and go team!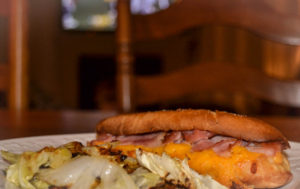 ---
SUNDAY SAMMICHES

Ingredients:
1 cup shredded sharp cheddar cheese
1/4 cup butter, softened and more reserved for topping
1 egg
1/8 teaspoon garlic powder
1/8 teaspoon onion powder
1/2 pound shaved ham (we used KY Legend Ham)
4-5 hoagie buns
Instructions:
Preheat oven to 400 degrees Fahrenheit. Combine first five ingredients until mixture is spreadable.  Spread mixture onto 4 or 5 hoagie bun halves.  Place ham on the other half of the bun.  Close up sandwiches.  Generously butter tops of buns and coat with garlic salt.  Bake 10-12 minutes or until cheese is good and gooey and buns are browned.  Enjoy!