For more than two hundred years, Jane Austen and her novels have charmed readers from around the world. While much has been written about her fascinating life, less is known about Jane's spiritual side. In this beautiful 31-day devotional, Miss Austen's faith comes to life through her exquisite prayers, touching biographical anecdotes, and illuminating scenes from her novels. Each reading also includes a thematically appropriate Scripture and a prayer inspired by Jane's petitions.
May this journey into Jane Austen's life of faith and prayer ignite and deepen your own relationship with the Father who loves you.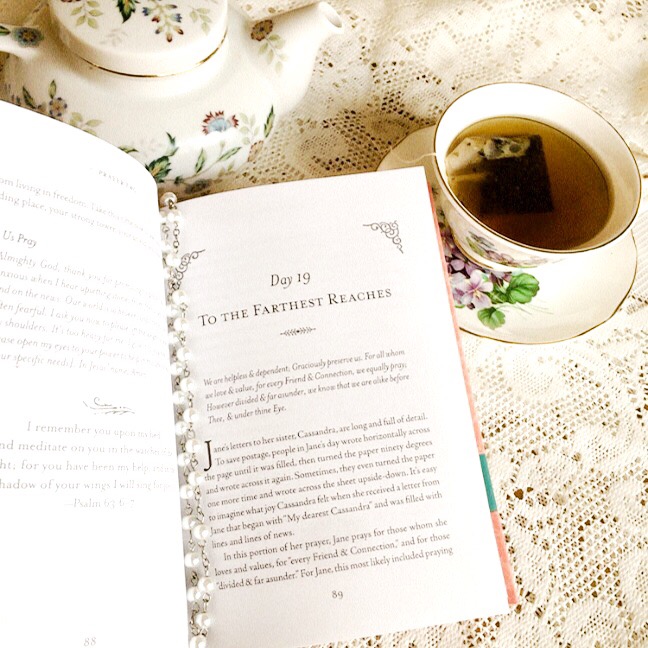 ABOUT THE BOOK:
Title: Praying with Jane
Author: Rachel Dodge
Genre: Devotional
Publisher: Bethany House Publishers
Release Date: October 2, 2018
PUCHASE LINKS: Goodreads| Amazon| B&N| Book Depository| Christianbook
MY REVIEW
Pour a hot cup of tea and get to know the deeply spiritual side of Jane Austen. By the end of the introduction of this 31-day devotional, I was in love. Rachel Dodge delicately dissects the three prayers Jane entrusted to her devoted sister, Cassandra. The beauty of words we have come to know and love in Austen's books are ever-present in her prayers, as is her obvious love of the Lord. Insightful, challenging, and warm, this devotional is sure to speak to the hearts and souls of its readers.
I voluntarily reviewed a complimentary copy of this book which I received from the author. All views expressed are only my honest opinion.
ABOUT THE AUTHOR
Rachel Dodge teaches college English and Jane Austen classes, gives talks at libraries, teas, and Jane Austen groups, and is a writer for the popular Jane Austen's Worldblog. She makes her home in California with her husband, Robert, and their two young children. A true kindred spirit at heart, Rachel loves books, bonnets, and ball gowns. When she's not reading or writing, you'll find her hanging out with her husband and kids, serving at her church, or watching period dramas and food documentaries.
(1) winner will receive 2 gift sets that include a copy of Praying With Janeas well as a matching journal & stickers (1 for you, 1 for a friend!)!
Be sure to check out each stop on the tour for more chances to win. Full tour schedule shown below. Giveaway will begin at midnight December 4, 2019 and last through 11:59 PM EST on December 11, 2019. US only. Winner will be notified within 2 weeks of close of the giveaway and given 48 hours to respond or risk forfeiture of prize. Giveaway is subject to the policies found here.
Follow along at JustRead Tours for a full list of stops!
*NOTE: This post contains affiliate links.