Last week, I tried to hiding veggies in a muffin and successfully deceived discerning toddler taste-buds.
This week, I just wasn't in the spirit of espionage.  In the words of my fun and quirky mother who often spurs me into the "more," "better," or "new," categories of life, I decided to embrace her frequent challenge of "Let's see what you've got," and try my hand at making kale as delicious as hers to entice my tots (and husband).  Not the exciting "more/better/new" you had hoped for?  Well, vegetables are my family's frontier, dear friends.
My one kale-cooking handicap: my kale was not lovingly harvested steps from my kitchen like my mother's each fall.  However, the grocery store did have organic kale on sale…. that's a win per this suburban mama.
---
To everything there is a season, and a time to every purpose under the heaven.

Ecclesiastes 3:1 (KJV)
---
MOM'S KALE RECIPE
I purchased 2 "bunches" of kale, washed one bunch, and pulled the leaves off of the stems.
Next, I used 1 minced clove of garlic (check out the Chicken and Dumplins recipe if you are interested in garlic) and 1 teaspoon of extra virgin olive oil, and I sautéed them ever so slightly.
Then I added the clean kale leaves and tossed them around in the garlic/EVOO.  I poured in the chicken stock and added salt & pepper.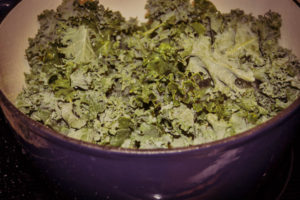 I put the lid on the pot, and let it work its magic.  I checked it every couple of minutes and stirred.  Cook until the kale reaches desired tenderness, which for me was about 8 minutes on medium-high heat.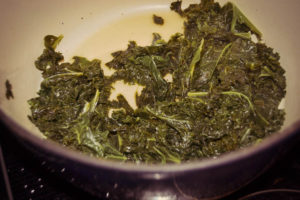 The kale really reduces, but the real magic trick of disappearing happens after it's served :).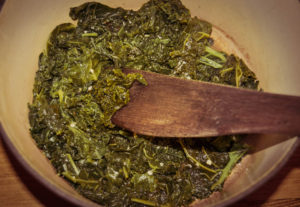 ---
KALE
Ingredients:
1 bundle/bunch of kale or about 7 cups of fresh, unpacked kale.
1 teaspoon extra virgin olive oil
1 minced clove of garlic
1 cup chicken broth
Salt and pepper to taste
Instructions:
Wash kale.  Pull leaves from stems and reserve leaves.  Sauté the EVOO and garlic while heating to medium-high heat.  Add kale leaves to pot. Stir to coat with garlic/EVOO.  Pour in chicken broth, S&P, and stir.  Place lid on pot, check every so often and cook to desired tenderness, approximately 8-10 minutes.  Enjoy!